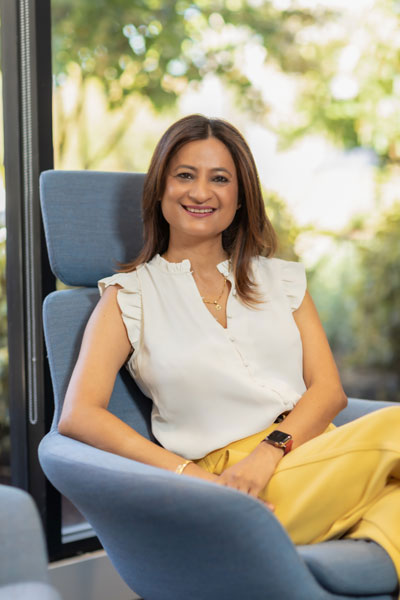 Manu Changotra
Trusted Agent of Silicon Valley Professionals
Manu has been a bay area resident for the last 2 decades and has keenly observed the ups and downs of bay area real estate over the years. Manu's warmth and her caring attitude conceal the fact that she ranked in the TOP 250 Real Estate Professionals by WALL STREET JOURNAL's Real Trends. She is one of the very few individual agent from Bay Area to be ranked in USA TOP250 Individual Agents. Her down to earth attitude ensures that you not only get an incredible agent but a great friend when you hire her!
Manu grew up in India and spent time across various regions of India as her parents were from the defense background. Professionals from diverse backgrounds can relate to her due to her professional schooling across various geographies.
Manu holds an MBA degree in Marketing & Advertising. Prior to joining real estate, she worked in advertising agencies like McCann-Erickson & Leo Burnett in client relationship roles where she counseled a broad range of corporate clients. Naturally, this experience provided a valuable foundation for a career as a real estate agent. Studying negotiation skills and conflict management at MBA schools has helped her conduct her transactions in a professional manner. She has built a strong reputation in the bay area broker community over the years.
Manu is able to identify potential problems and plans and takes mitigating steps to protect her clients. Most agents lack the education, experience and the analytical expertise necessary to guide sophisticated tech professionals buyers and sellers in real estate transactions. Manu's diverse and professional background and her best in business real estate expertise/marketing skills give her clients an advantage over others.
Manu started her real estate career a decade ago and has helped 300+ families, buy and sell homes worth from $295K to $12million. Throughout her career, Manu has met amazing families and treasures the sweet gestures from her clients in terms of getting appreciative reviews or receive gifts from my clients as a token of their appreciation.Manu believes in giving back to the community and volunteers for Las Madres and local schools and local cultural events.
Outside of work, she is an avid baker and loves doing custom cakes during her free time.  She loves to travel to new places with her husband and kids. Her kids have grown from preschool to high school in the bay area schooling system.
Meet with Manu to discuss about selling or buying a home and she will tell you more about what makes manurealestate's innovative real estate solutions so successful. There is NO cost or obligation for this consultation.
Vision
Top of the mind most trusted name in bay area real estate
Mission
To earn client trust and provide unparalleled professional customer experience
Values
Be always client focussed , continuously learn and improve and provide value added services to the client